Original Dates
July 22-26th
Comic Con @ Home Website
Programming
YouTube Channel
Art Show
Create Your Own Con Experience
Welcome back to the SDCC experience series! This is the fourth and final volume of a multi-part series, so be sure to check out the previous posts if you haven't already!
Pros, Cons, Tips, Tricks, and Common Issues:
Over the course of these past few weeks, I have researched, experienced, and learned an extensive amount about what makes or breaks an at home convention experience. Overall, I had a lot of fun, and even though the issues I ran into along the way, it is important to remember that this concept is still really new, and I think that SDCC and everyone involved with the con this year did their best to make a fun experience for their fans under the current circumstances. Here are some of the main takeaways from the experience…
Pros:
Created multiple places across a multitude of platforms for fans to connect with one another and take part in adapted con experiences from their homes.
Like each year, they did their best to come out with exclusive merchandise across some of the largest brands in the world.
They still had expenses that you may have only been able to have in person like D&D, Q&A sessions with the stars, art shows, and a place for cosplayers and artists alike to showcase their talent.
There were a lot of fun ideas and innovative ways to create the SDCC experience at home including creating your own convention center.
They provided hundreds of different panels (including those that touched on hard hitting topics in pop culture and highlighting the impact of diversity) true to the authentic SDCC experience that people could watch any time once they came out, and made an easy platform to create and keep track of a personalized schedule of events.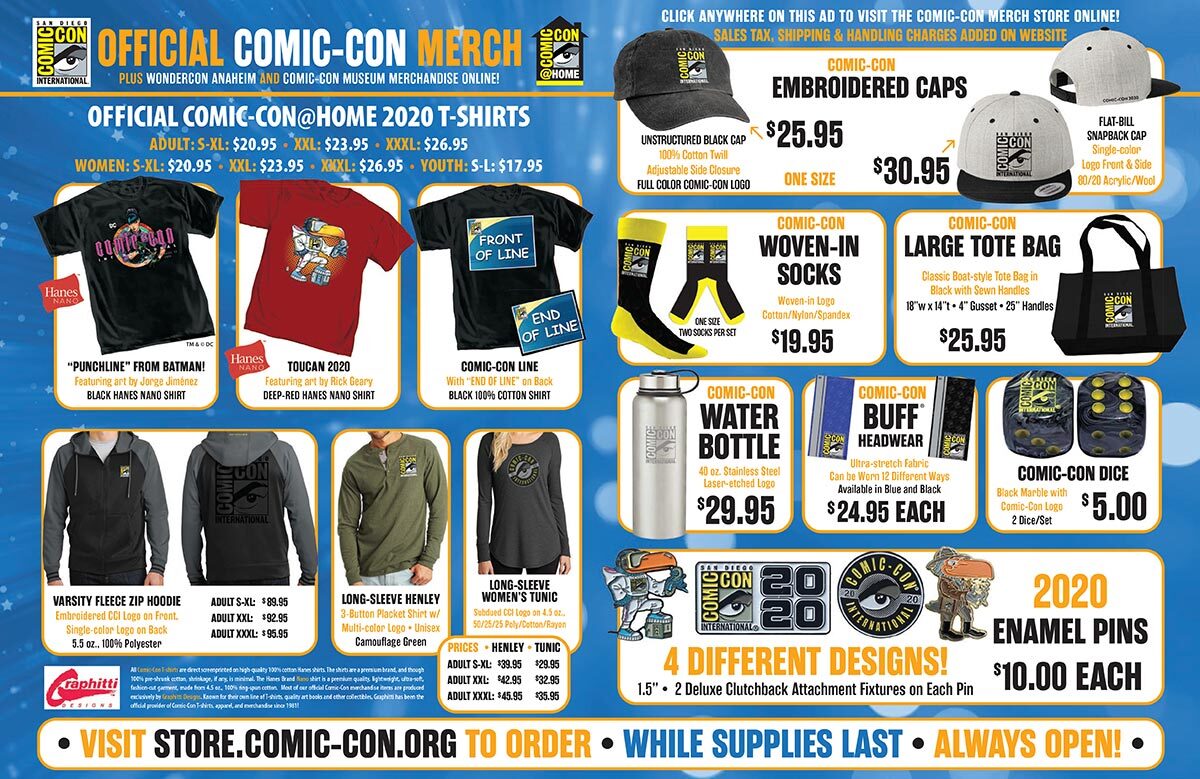 Cons & Common Issues:
Retailer websites were not built to withstand hundreds of thousands of people bringing traffic to the site at one time. So, there were constant issues like crashing, product availability, and overall difficult experiences as fans coming from some of the largest brands (who should have been more equipped to handle an influx of people during one of the largest pop culture events around).
Not everyone is comfortable being in front of a camera and/or a part of the Zoom calls, so several of the discussions showcased this year, there were many that were just difficult or even irritating to watch. I found myself just awkwardly watching as a band of people get flustered over technical issues and begrudgingly work through the rest of their presentation about role playing games.
Although they had the Art Show and a few contests, so many independent creators and artists build their year around attending Artist Alley and being able to get themselves out there. This year, that was not possible, and I don't think that SDCC did enough to try and get the word out about these amazing shops and businesses that are struggling. There are so many people to rely on cons like this to provide for their families and to get their brand out there. It wouldn't be hard to feature some of these artists or refer fans to sites like Etsy and Kickstarter where their products thrive.
Tips and Tricks I Picked up Along the Way:
One of the biggest takeaways I got from my experience was that the technical issues are inevitable, but it's how the audience and panelists deal with it that makes the experience. Sometimes rolling with the punches is the best part
Everyone is new to this, so most likely you will not be the only person who runs into issues.
Make sure you have a great internet connection. This might go without saying, but speaking from experience, just double check and make sure everything is up and running before you dive too deep.
In Conclusion…
To wrap things up, It was fun being able to attend the world's largest convention for the first time, and having the admission be free/ watching it from my living room was an added bonus. Even though it wasn't the same as an authentic experience, I had a great time and I hope that Wizard World and similar cons will pick up on this idea. I recommend checking it out and the best advice I can give is that it's certainly not the same, remember to have fun and enjoy the first ever SDCC @ Home from the comfort of your home.
Thank you all so much for reading this series! It was so much fun to share my first virtual convention with you all!
Please follow and like us: