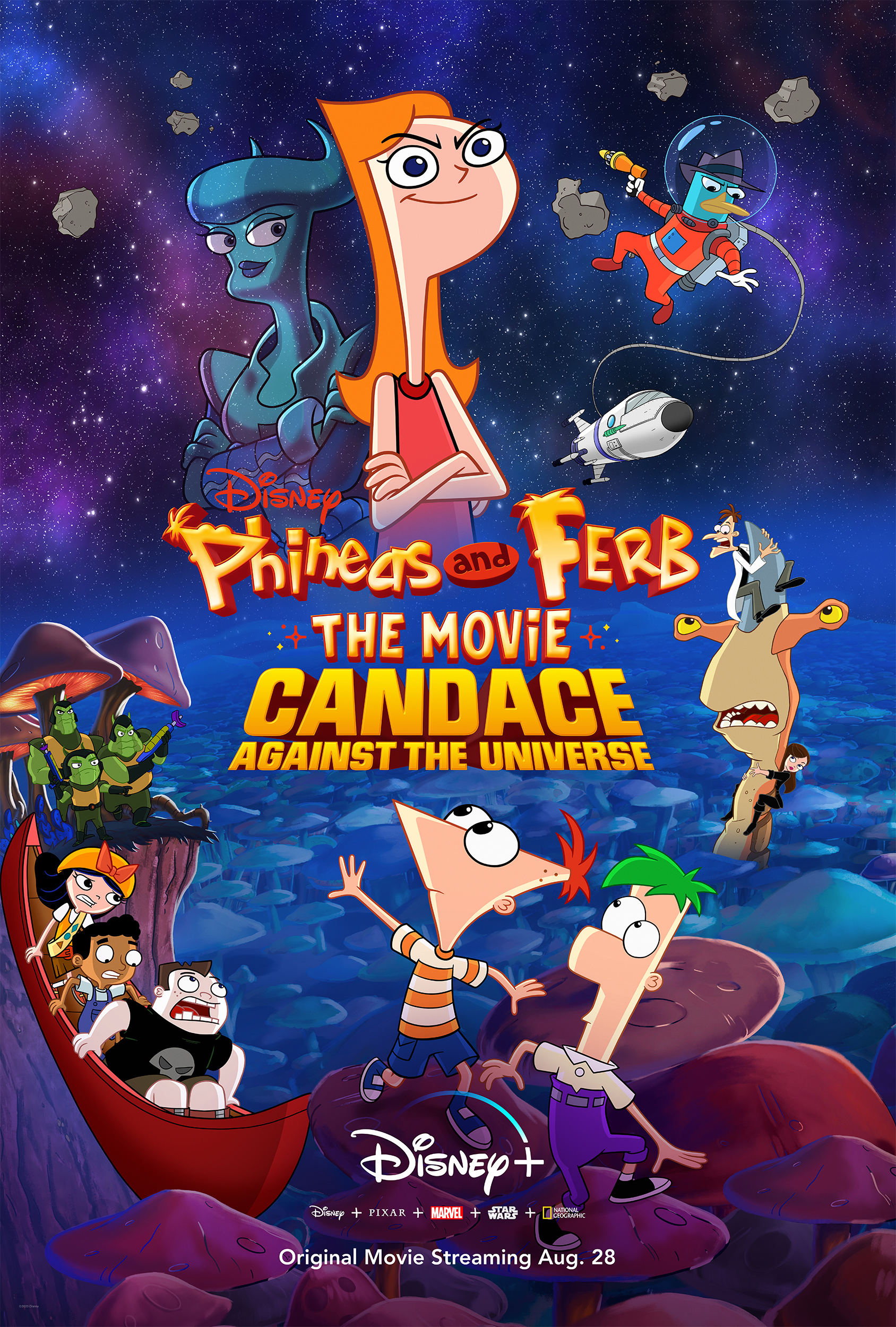 Cast:
Ashley Tisdale as Candace, Vincent Martella as Phineas, David Errigo Jr. as Ferb, Dan Povenmire as Dr. Doofenshmirtz, Alyson Stoner as Isabella, Maulik Pancholy as Baljeet, Bobby Gaylor as Buford, Dee Bradley Baker as Perry, Olivia Olson as Vanessa, Ali Wong as Super Super Big Doctor, Wayne Brady as Stapler-Fist, Thomas Middleditch as Garnoz, Diedrich Bader as Borthos, Thomas Sanders as Throat-Lobster, Caroline Rhea as Mom, Richard O'Brien as Dad, Mitchel Musso as Jeremy.
Rating:
10/10
Well, it's finally here… the new Disney Plus original, Phineas and Ferb the Movie: Candace Against the Universe is here! Poor Candace, always telling her mother about these crazy inventions that her brothers create, and never having any evidence of it. The story takes place in the same Summer as the main series did, and finally gives her the spotlight she deserves, as she and Vanessa are abducted by Aliens and taken to utopia free of any little brothers. Dr. Doofenshmirtz joins Perry, Phineas and the gang as they go to space to find Candace before it is too late. As someone who grew up with these characters, seeing almost all of the original voices to join the cast of the motion picture event, is so nostalgic. It brought back so many memories, and with almost the entire original cast all back together, this space adventure was so well received that it received a 100% on Rotten Tomatoes from fellow fans like myself. I've been waiting for the release these past few months with growing anticipation from all of the press and hype that the creators, Disney, and fans alike have given the film. From SDCC panel lineups to viral fan collabs with Dan Povenmire, this film had the highest of expectations from a lifetime fan, and exceeded them. 
I still remember when the first Phineas and Ferb movie aired on Disney Channel, and I threw a Perry the Platypus themed party. I have grown up with this show by my side, and I will always be grateful for the impact that it made not only for me, but for millions of kids like me around the world. With Perry the Platypus and Dr. Doofenshmirtz by my side, my love for creativity and fascination in animation grew, and now however many years later, I am looking into a career in animation. So this show and all of prequels, movies, and spin offs will hold a special place in my heart. From almost the entire original cast (including Ashley Tisdale starring as Candace and Dan Povenmire as Dr. Doofenshmirtz), to the revived animation and iconic quips of dialogue, this was one of my favorite movies to come out of 2020 so far. 
Like I mentioned earlier, one of my favorite parts of the release was the anticipation and press surrounding it. If you haven't already you can check out my previous posts about SDCC (you can find that here), this year they released an exclusive panel with almost the full cast of the movie. Over the course of the panel, fans heard about exclusive behind the scenes content, stories from the creators, first looks, and more. It was so much fun listening to the creators and voice actors talk about how much this franchise means to them, and how this movie came to be. I love learning more about the process and little snippets that you can't hear anywhere else. Of the content released from SDCC for the upcoming movie, they introduced fans to the first of many original songs sung by Tisdale and others from the newly released soundtrack. You can watch the panel here, and you can find the song, Such a Beautiful Day, and the trailer below…
Besides panels and interviews with the cast and crew, there was an overwhelming amount of support and hype from fans across the world, jumping on their platforms and sharing their enthusiasm for the upcoming movie and the impact that the show really had on their lives. Many fans have been taking to TikTok in the past few months to show off their enthusiasm for the Phineas and Ferb fandom while reviving some of the most famous songs to come out of the original series. Now that all seasons of the show are streaming on Disney+, the show has gained a new audience of first time viewers just in time for the release of Candace Against the Universe. Dan Povenmire himself, joined TikTok, towards the start of quarantine and has been posting regularly to his two million followers with fan collabs, exclusive looks into some of the behind the scenes, stories from on set, cut ideas and original footage that didn't make it into the final film. Since Povenmire's success on the app, the other half of the PAF creative team, Jeff "Swampy" Marsh, has hopped on and is now teaming up with his creative partner to put out even more exclusive content. (You can find Dan here and "Swampy" here.) You can also find most of Dan's content on his Instagram page here. 
Among some of the collaborations to come out of Povenmire's rise to TikTok fame include those from fans like @Amandumb who counted down to the big premiere with 28 Days of Phineas and Ferb. Each day she put out original content recreating and producing covers of some of the most popular and forgotten songs to come out of the series. On several occasions, Povenmire made several videos adding along with her countdown. You can find a few of her videos and Dr. Doof recreating one of my favorite songs from the series.
Ain't Got Rhythm Little Brother Dan's Collab
I think that utilizing social media platforms like TikTok and virtual events like SDCC to promote the film, especially during quarantine, was a very smart decision on behalf of the marketing team for Candace Against the Universe. Not only have an increased amount of people on these platforms since the start of quarantine, but one of the prime demographics of the apps and other social media is the age group that have grown up with the series. I enjoy interviews as much as the next guy, but there is something more genuine about the promotions when it is coming directly from the creators, and they are actively connecting with their fans. It feels less like they are contractually obligated to show off this project they were a part of, and more like they want to show people the fun they had creating such a universally enjoyed series and show their appreciation for those who are still passionate about it today.
If you haven't seen the show or don't have any kind of special connection to it, I would still recommend this movie. The writers, voice actors, and the entire team that has worked on this movie for the past few years have created a movie that old fans will love (if you were into the first four seasons, watch out for a lot of Easter eggs and be sure to stick through until the end), but a movie that new fans would enjoy just as much. I love all the little cameos and tie backs to the original series. It actually took me a few times to notice most of the hidden callbacks and Easter eggs that Povenmire, "Swampy", and the team hid in there, and I think that is part of the fun. Every time I watch it, I still laugh out loud and I find something new.  I really cannot recommend this movie enough for old fans and new, and all of the hype surrounding it has brought back so many memories and really shows how strong the fandom is after all these years. This movie really has something for everyone, and I hope that people continue to watch it and introduce more people to these two inventing brothers. This franchise wouldn't be possible without the talented creators, Dan Povenmire and Jeff "Swampy" Marsh, so be sure to check them out here and here, and to stream Phineas and Ferb the Movie: Candace Against the Universe, streaming now exclusively on Disney Plus. If you are new to the franchise, you can also check out the entire series also streaming now on Disney Plus.
Please follow and like us: