When a girls softball team takes a shortcut through the Florida Everglades, they veer off the path towards a night they'll never forget – drinking, dancing – one last hurrah before college starts and they go their separate ways. When they stumble into a trap set by a murderous cult, the stage is set for a night of blood-soaked carnage, but the cult has never dealt with victims who are ready to fight back.
In this grimy horror romp, Francois, a stunning middle-aged woman, has developed a worsening affliction and seeks a young caretaker to upkeep her lavish creole mansion deep in the mystic bayou of Louisiana. Enter Kenny, a teenage halfwit looking for a summer job. Free rent, meals, high pay, and a provocative boss… what's there for Kenny to refuse? Well, there's the blood-covered kitchen..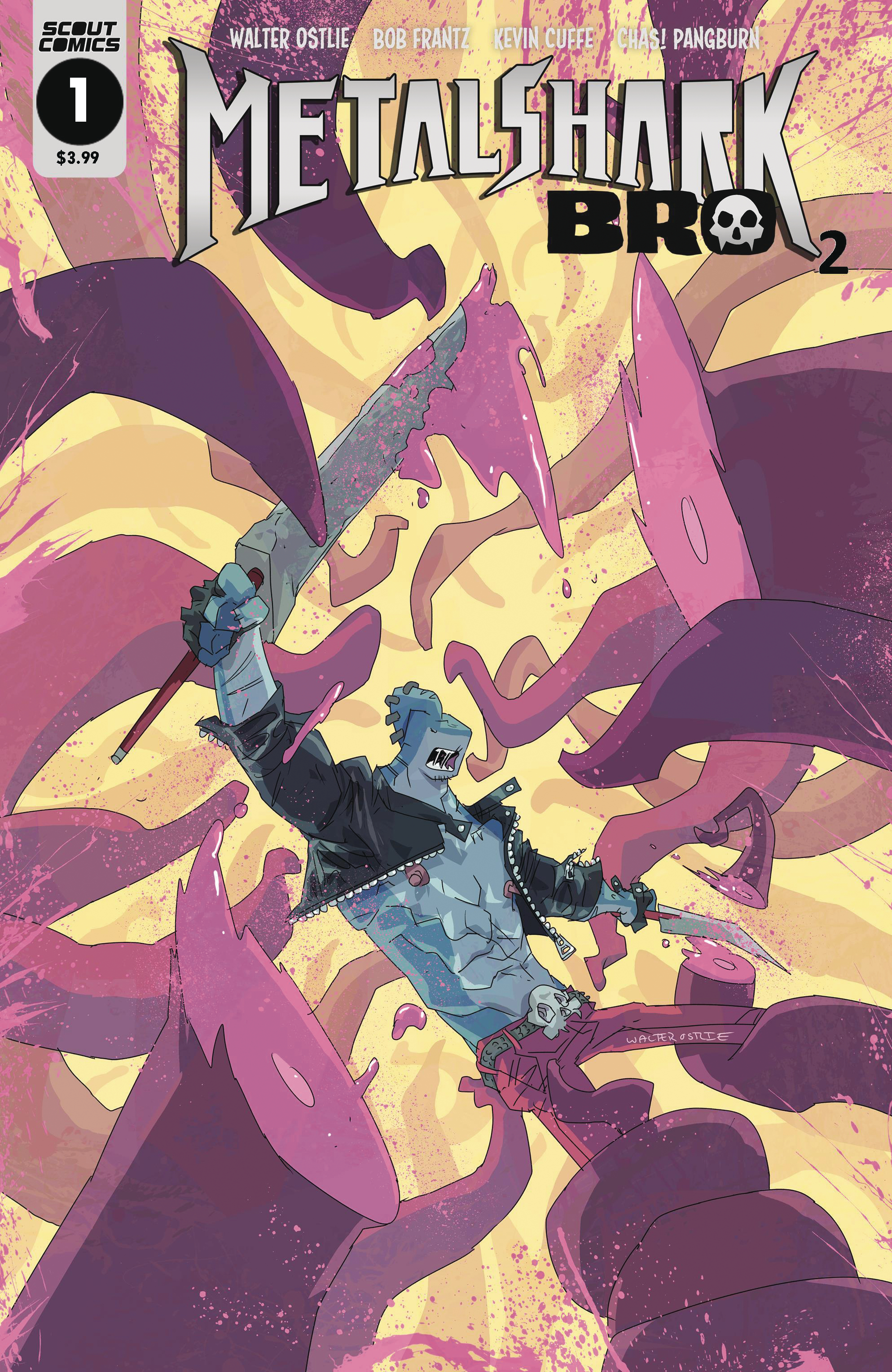 Metalshark Bro is back! When last we saw MSB, he killed A LOT of people, got the giant floating eyeball, ate some grub, and defeated Satan's nephew. Unfortunately, this victory was short-lived. A demon hamster kidnapped his bestie, so now he's forced out of his sharky-sabbatical to fight off Cthulhu dudes, mutant alligators, magic demons, and his own aggression.
MURDER HOBO #1
In the Lands of High Adventure, brave bands of heroes undertake dangerous quests in search of fame and fortune. The exploits of these fearless explorers, who dare delve into the deepest of dungeons, will be sung about by the bards for eons. This is not their story. No, this is a tale of what happens when well-intentioned groups of would-be adventurers recruit the wrong kind of "hero," the dreaded Murder Hobo.
The cold war continues when a DEA agent is recruited to test a mind control drug on unwitting Americans. Brendan sets up the Seattle safe house, clashing with someone who puts the entire project at risk before it even gets off the ground. Meanwhile, Annie's search for the stolen cash leads her down a road that could cost her everything.
WHITE ASH #4
A tragic death leaves the residents of White Ash reeling. More of the Town's secret past is revealed as we get our first glimpse of the "Longest Night." The incomparable Glarien makes her debut appearance cutting a bloody path on to the scene.
YASMEEN #1
Iraq, 2014. Life couldn't be better for 16 year-old Yasmeen as her family is able to buy a big new house. Then ISIS invades Mosul. Yasmeen's Shia family barely escapes, while Yasmeen us captured by terrorists and sees her uncle executed. Two years later, Yasmeen is reunited with her family in the United States. Now faced with a new life, Yasmeen must learn to survive in a society that both fears and hates her and must overcome the horrors of the past in an attempt to find herself again.
Please follow and like us: