Squarriors, Lord of Gore Return with New Solicitations
Originally solicited for 2017, the long-awaited
Squarriors: Summer 
#3 will return to comic shops this March, preceded by the murder mystery-thriller 
Lord of Gore 
#4 this February.
Squarriors is the tale of warring rodents in a post-apocalyptic, post-human world, with a twist being that humanity's demise occurred in the 1980s. It appears that the same event that wiped out humans has caused nearly all animals in the world to become sentient by 1996.
Lord of Gore is the story of a soon-to-be-fired screenwriter of America's favorite slasher horror franchise 'Lord of Gore', Danny Graves. Decades ago scandal propelled the 'Lord of Gore' B-movie franchise to mainstream success. In 1989 the film's costumed slasher actor murdered a young actress in ways worse than his on-screen character, creating a media frenzy. Now on the cusp of a modern reboot, a struggling screenwriter learns that the deranged star wasn't the only guilty party that night, but before he can share the information, the film's slasher seems to have stepped from the screen into real life to stop him. Horror fans and readers thirsting for blood – this is for you!
Both titles were originally solicited for 2017 releases, and postponed due to creative delays. Art has been completed for both issues and approved for release by Devil's Due Entertainment.

From Squarriors: Summer #3.


From Squarriors: Summer #3.


From Lord of Gore #4.


From Lord of Gore #4.
Squarriors: Summer #3
March 2018 (Diamond code TBA)
(W) Ash Maczko (A/CA) Ashley Witter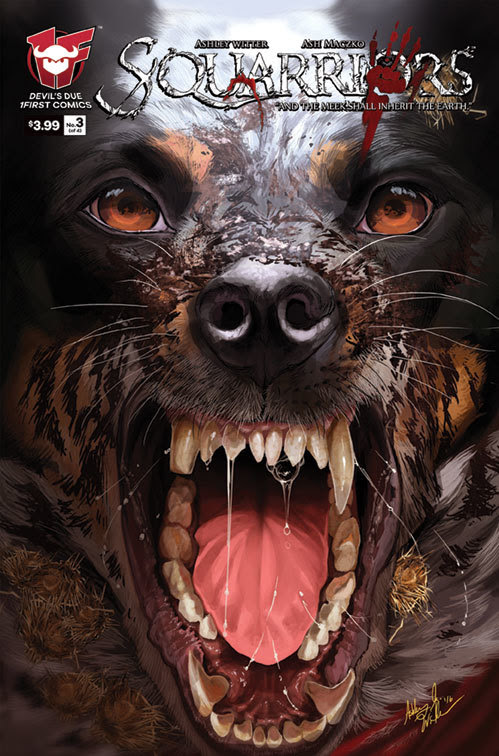 Lord of Gore #4 Cover A
January 2018 NOV171497
(W) D.B. Stanley (A/CA) Daniel Leister

Lord of Gore #4 Cover B
January 2018 NOV171498
(W) D.B. Stanley (A) Daniel Leister (CA) Stuart Sayger


***
Please follow and like us: