Great works of art have survived the test of time, but will they survive Ghouliana's wrath? The latest edition of IDW's hit coloring book series, The Beauty of Horror 6: Famous Monsterpieces, aims to answer that very question. Bestselling creator Alan Robert of the popular rock band Life of Agony returns to let his undead superstar Ghouliana loose upon the halls of the art museum. The result is a GORE-geous reimagining of the world's most famous masterpieces. Looking to the future, The Beauty of Horror: Tarot Coloring Book, is the next in the popular series. Due out in August 2023, the book is available for pre-order now!
The Beauty of Horror 6: Famous Monsterpieces is filled with over 80 pages of intricate hand-drawn designs, striking a perfect balance of horror and comedy to light that creative spark. However, before you pick your palette, be on the hunt for all the lost, historic items Ghouliana has dropped along the way, such as Van Gogh's Ear, Venus Di Milo's arms, Renoir's Pipe, Warhol's wig, Salvador Dali's mustache, and more!
"Michelangelo is probably rolling in his grave right about now," laughs Beauty of Horror creator Alan Robert. "But I truly developed a newfound respect for art history during the course of illustrating this book. Mostly, because I used to sleep through a lot of those classes during my time at The School of Visual Arts. So this time around, I dug in deep, did the research, and added my own twisted, tongue-in-cheek sensibility into the tributes. I hope it inspires colorists to go back and check out the Masters."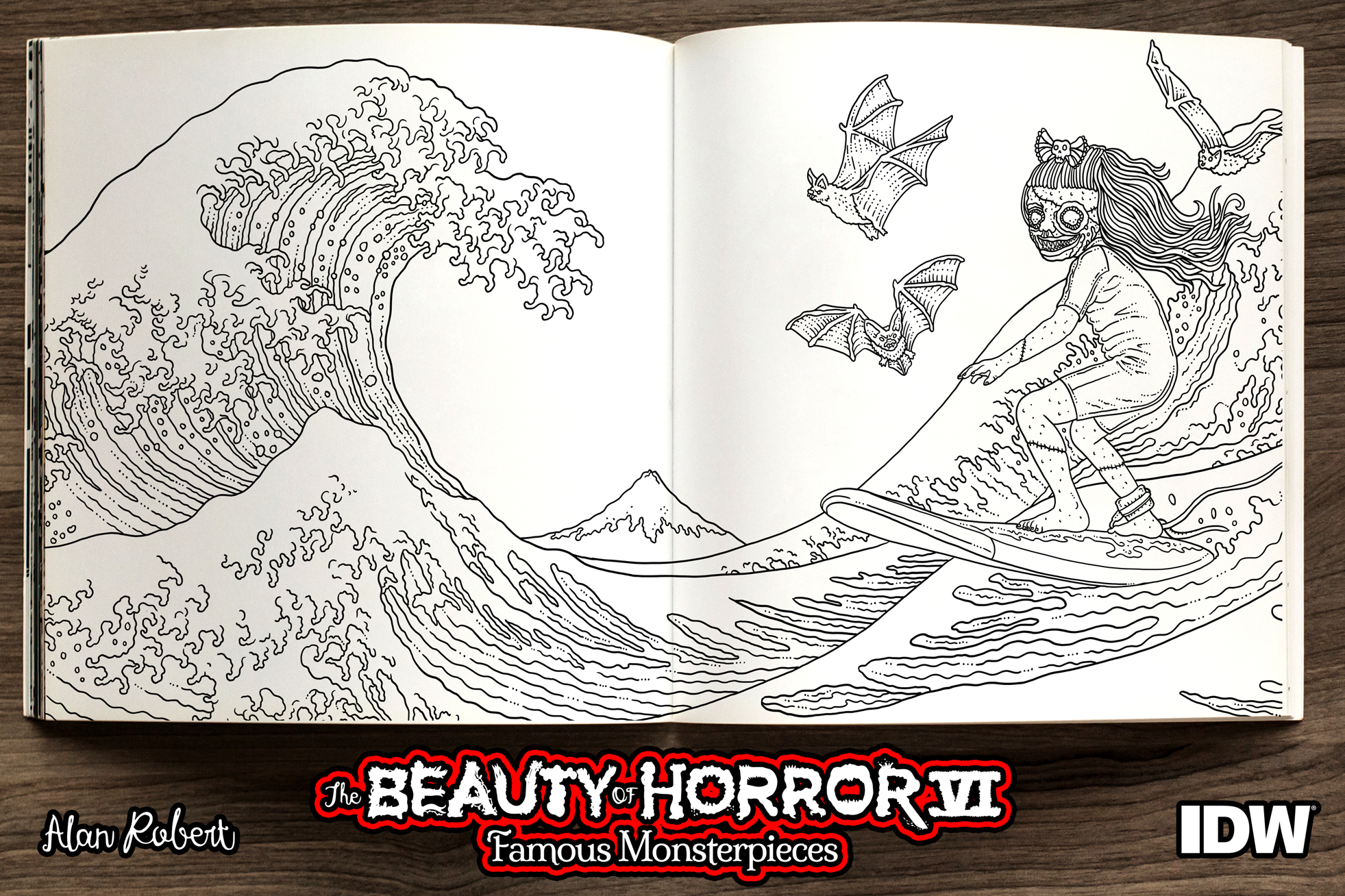 The Beauty of Horror 6: Famous Monsterpieces Coloring Book by Alan RobertISBN 978-1-68405-922-5$16.99 US / $22.99 CAN88-pages, black-and-white square-bound softcover, 10" x 10″On-Sale: March 7, 2023
The Beauty of Horror: Tarot Coloring Book – Alan Robert's painstakingly illustrated tarot deck presents 78 cards from the major and minor arcana, ready for you to color! Ghouliana and her undead pals guide you through a truly sinister tarot experience filled with demons, werewolves, vampires, ancient spirits, and much, much more. Originally published as a card set, these detailed illustrations are appearing in book form for the first time in The Beauty of Horror: Tarot. Each design is accompanied by a thoughtful, in-depth explanation of the card's meaning to help guide you through the mystery of the tarot. Channel your creativity and choose your own destiny by bringing these terrifying depictions to life with your custom palette. A must-have for horror fans!
The Beauty of Horror: Tarot Coloring Book by Alan Robert ISBN 979-8-88724-037-4$16.99 US / $22.99 CAN88-pages, black-and-white square-bound softcover, 6.8" x 9.8″On-Sale: August 1, 2023
Please follow and like us: