Punk rock zombies vs. bodacious babes and all for a good cause!
(From the IndieGoGo campaign page)
Everybody knows the last year has been filled with unprecedented challenges. It felt like Covid-19 changed the world overnight and we all were just in a rush to keep up with those changes. Some of us were hit harder than others.
Terry Parr is a father, husband, and comic creator. I've been proud to call Terry a friend and creative partner for the better part of two decades. He is extremely talented, imaginative, and a wizard with a pencil. He is like a brother to me. So, of course, when he got sick, I knew I had to help him.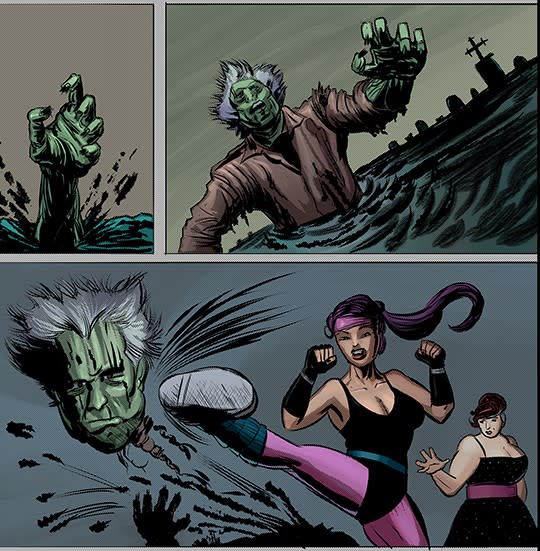 Like so many, Terry was hit with high medical bills after contracting Covid-19. Thankfully a solution presented itself in the form of an indie comics crossover between my own Lucy Chaplin: Science Starlet and Terry's Aerobicide. Based on a story originating from myself and Terry, I have gathered a talented creative team to bring this tale to life. This comic has it all, bodacious babes, pop culture references, gallows humor, and of course PUNK ROCK ZOMBIES! Best of all, proceeds from this crowdfund will be going to help the Parr family cover Terry's medical bills.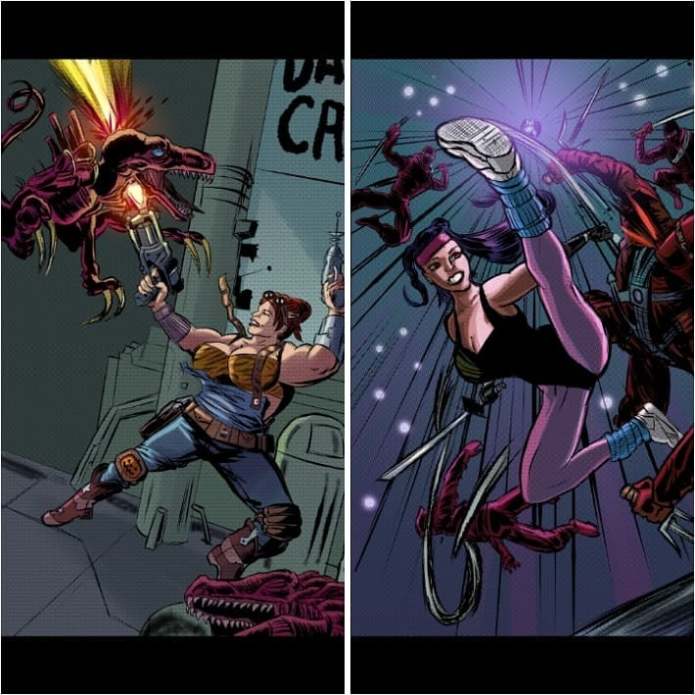 Aside from being for a good cause, this crossover aims to be – above all – a good time. Following our two leading ladies as they get pulled inside REVENGE OF THE CREEPING DREAD, an 80s horror flick with all that entails. Together, Sheri and Lucy must fight to survive hordes of the undead while trying to find a way out of the movie and back to their own worlds.
This comic is crammed with heart, horror, and the kinds of things both comic book and horror fans love.
Drew Edwards (Story/Script/ Creator of Dr. Lucy Chaplin) Award-winning comic book writer, horror film historian, music journalist, rock promoter, and showman extraordinaire; these are all guises of the creative force known as Drew Edwards. Best known as the writer and creator of the long-running underground comic book series, Halloween Man, thousands tune in each week to hear him as a cast member of the horror movie podcast, Castle of Horror. Known as "Howlin'" Drew Edwards to many musicians, he's helped bridge the horror and comic culture worlds with Austin's legendary music scene with Halloween Man Productions annual "Punk vs. Rockabilly" showcase during SXSW, now in its tenth year, and as a contributing writer for Rockabilly Online. Drew currently lives in Austin, Texas with his wife, musician/activist, Jamie Bahr, and a pair of loveable bunnies.
Terry Parr (Story/Creator of Aerobicide) Terry Parr is a Korean-American artist & writer currently living in Fort Worth. Terry is known for his comic/manga pin-up style. His works can be seen on Ninja High School (Antarctic Press) Aerobicide The Extreme Ninja Workout, Vampirella, Dusk Comics, Rio Bravo Comics, TeeFury, and Project A-Kon (America's 4th largest Anime convention).
Brian Crowley (Artist/Inker) Brian J. Crowley is a design leader and illustration professional currently working with Fortune 500 companies and multiple agency clients specializing in organizational agile transformation. He lives in Portage Park with his wife Stacey. He's the creator of the webcomic "Hamster Rage" and has drawn and written numerous other comics.
Wesley Wong (Colorist) "Wesley Wong is a freelance illustrator and colorist working in the comic and game industry. Up until recently, his dayjob was color and line art restoration artist on the Marvel Masterworks line of books. He currently lives in the suburbs of Tinley Park with his far more talented better-half Sheila Johnson.
Please follow and like us: