Valiant Solicitations for FEBRUARY 2016 – BLOODSHOT REBORN #11 | IMPERIUM #13 (NEW ARC! "STORMBREAK" – PART 1) | X-O MANOWAR #44 | And More!
BLOODSHOT REBORN #11 ("THE ANALOG MAN" – PART 2)
Written by JEFF LEMIRE
Art by LEWIS LAROSA
Cover A by RYAN SOOK
Cover B by CLAYTON HENRY
Cover C by JEFFREY VEREGGE
Variant Cover by TULA LOTAY
Variant Cover by BRIAN LEVEL
Thirty years from today…"THE ANALOG MAN" goes to war with Ninjak!
Far into a post-apocalyptic future, Los Angeles has descended into chaos. Even the remaining heroes of the Valiant Universe can't stand against the G.A.T.E. super-tech that dominates the wastelands. As Bloodshot and Magic emerge with a small group of survivors in tow, an unexpected ally from the past shows up, seeking help, forcing Bloodshot to either turn his back on his friend…or his family!
New York Times best-selling writer Jeff Lemire (Extraordinary X-Men) and artist extraordinaire Lewis LaRosa (The Punisher) bring down the hammer on a metal-tearing vision of the future that must be seen to be believed right here in the second scorching chapter of "THE ANALOG MAN"!
$3.99 | 32 pgs. | T+ | On sale FEBRUARY 24
—
BLOODSHOT REBORN: THE ANALOG MAN – DIRECTOR'S CUT #1
Written by JEFF LEMIRE
Art & Cover by LEWIS LAROSA
Witness two master creators at the height of their powers as THE ANALOG MAN returns…in bare-knuckled black and white!
For the first time ever, go behind the scenes and discover the unexpurgated glory of Jeff Lemire and Lewis LaRosa's post-apocalyptic joyride through the future-shocked badlands of the Valiant Universe with a special 48-page "director's cut" of BLOODSHOT REBORN #10, showcasing LaRosa's raw, hyper-detailed pencil artwork and Lemire's complete script! Stripped down to pencils and letters alone, you've never seen Bloodshot like this before as the must-read storyline of the New Year circles back for an encore presentation of THE ANALOG MAN's gasoline-soaked first chapter!
$4.99 | 48 pgs. | T+ | On sale FEBRUARY 24
—
FAITH #2 (of 4)
Written by JODY HOUSER
Art by FRANCIS PORTELA and MARGUERITE SAUVAGE
Cover A by JELENA KEVIC-DJURDJEVIC
COVER B by MARGUERITE SAUVAGE
Cover C by FRANCIS PORTELA
Variant Cover by COLLEEN COOVER
The most talked-about new book of 2016 is just getting started! 
Just as she uncovers a conspiracy in the Hollywood Hills that threatens the lives of her fellow psiots and new friends alike, Faith must also deal with the return of her ex-boyfriend and one-time teammate Torque…and a volatile new alien threat that nobody saw coming!
Be here as all-star creators Jody Houser (Orphan Black), Francis Portela (Green Lantern), and Marguerite Sauvage (DC Comics Bombshells) continue the groundbreaking, first-ever solo series for the Valiant Universe's most extraordinary hero…the high-flying Faith!
$3.99 | 32 pgs | T+ | On sale FEBRUARY 24
—

IMPERIUM #13 (NEW ARC! "STORMBREAK" – PART 1)
Written by JOSHUA DYSART
Art by KHARI EVANS
Cover A by ROBERT GILL
Cover B by CAFU
Valiant x CGC Replica Variant by CLAYTON HENRY
Variant Cover by RYAN LEE
Variant Cover by JUAN JOSE RYP
ALL-NEW ARC! JUMP ON BOARD HERE! "STORMBREAK" is about to bombard the front lines of the Valiant Universe!
The world's most powerful team of mercenaries is on the defense…as an elite international kill squad led by Livewire and H.A.R.D. Corps' Major Charlie Palmer descends to destroy Imperium's stronghold!
Toyo Harada will save the world…if he doesn't doom it first. The revolutionary disruption that Harada and his team have launched – by deposing tyrants, housing refugees, and feeding the poor – has come at the expense of the world's wealthiest nations. When the planet's leaders have had enough, it will be decided: Toyo Harada must die. Now a crack unit of operatives will stand against Harada on the global stage…with his own former pupil Livewire taking him head-on. Meanwhile, Harada's military lieutenant Gravedog meets his match when Palmer drops into the firefight of a lifetime…H.A.R.D. Corps vs. H.A.R.D. Corps!
The war starts here as New York Times best-selling writer Joshua Dysart (HARBINGER) and chart-topping artist Robert Gill (BOOK OF DEATH) unite for an explosive new jumping-on point…pitting the Valiant Universe's notorious team of monsters and revolutionaries against the very system they've sworn to overthrow!
$3.99 | 32 pgs. | T+ | On sale

FEBRUARY 17
—

WRATH OF THE ETERNAL WARRIOR #4
Written by ROBERT VENDITTI
Art by RAUL ALLEN
Cover A by DAVID LAFUENTE
Cover B by RAUL ALLEN
Cover C by MARCOS MARTIN
Variant Cover by CLAYTON HENRY
Variant Cover by ADAM POLLINA
B&W Sketch Variant by DAVID LAFUENTE
Even Hell has met its match…in the unrelenting fury of the Eternal Warrior!
In the wake of BOOK OF DEATH…the Earth's immortal champion is dead…but his battle is far from over. Cast out of our world and into a fearsome afterlife of pain and punishment, Gilad is determined to return to our world and resume his duty… But can even history's most formidable master of war forge ahead in an unearthly domain built to break the human spirit? Now, on the cusp of freedom, the Eternal Warrior rises to fight an enemy with a grudge as old as himself…only to the find that the price of victory might just be everything and everyone he has ever loved…
The year's heart-shattering new ongoing series steps out of Hell…and into the battle for life itself as New York Times best-selling writer Robert Venditti (BOOK OF DEATH) and visionary artist Raul Allen (NINJAK) force the Eternal Warrior into the next brutal level of rebirth in a world beyond our own!
$3.99 | 32 pgs | T+ | On sale FEBRUARY 17
—
NINJAK #12 ("OPERATION: DEADSIDE" – PART 3)
Written by MATT KINDT
Art by DOUG BRAITHWAITE with JUAN JOSE RYP
Cover A by DOUG BRAITHWAITE
Cover B by TOM RANEY
Cover C by CLAYTON HENRY
Character Design Variant by CLAYTON HENRY
Variant Cover by KERON GRANT
Into the darkness…as "OPERATION: DEADSIDE" reveals the secrets of Shadowman!
MI-6's doomed rescue mission into a parallel dimension is in dire peril as Ninjak and Punk Mambo find themselves face-to-face with the one and only Shadowman! But what is the true nature of the man once called Jack Boniface…and has his time trapped amidst the Deadside's horrors stolen his humanity once and for all? A battle to save the soul of the Valiant Universe is about to begin – but even the good guys can't be sure if they're on the right side!
The Valiant milestone of 2016 continues here as superstar creators Matt Kindt (DIVINITY) and Doug Braithwaite (ARMOR HUNTERS) bring "OPERATION: DEADSIDE" thundering towards an unmissable climax!
$3.99 | 40 pgs | T+ | On sale FEBRUARY 10
—
X-O MANOWAR #44
Written by ROBERT VENDITTI
Art by ROBERT GILL
Cover A by PHIL JIMENEZ
Cover B by STEPHEN MOONEY
Variant Cover by STEPHEN SEGOVIA
X-O Manowar and Ninjak cut deep into "THE KILL LIST"!
Dispatched by MI-6 to dismantle a Vine terror cell before its next deadly attack, the Valiant Universe's fiercest warrior and most elite master assassin have reunited to locate their target…and they might already be too late! But as Commander Trill's master plan comes to fruition, he may discover that his greatest enemy is within!
Epic storytellers Robert Venditti (WRATH OF THE ETERNAL WARRIOR) and Robert Gill (BOOK OF DEATH) plunge into the world of espionage and intrigue as X-O Manowar's latest page-turner hunts the heroes of the Valiant Universe!
$3.99 | 32 pgs | T+ | On sale FEBRUARY 3
—
THE DEATH-DEFYING DOCTOR MIRAGE: SECOND LIVES #3 (of 4)
Written by JEN VAN METER
Art by ROBERTO DE LA TORRE
Cover A by JELENA KEVIC-DJURDJEVIC
Cover B by KEVIN WADA
Cover C by BILQUIS EVELY
Variant Cover by JEFFREY VEREGGE
Shan Fong-Mirage thought she had solved the riddle of her ghostly husband…
They thought the magic of an ancient scroll, the Secunda Vita, could restore Hwen Mirage's physical form. But the spells in the scroll are deadly…and after spending decades trapped within its words, the malevolent and corrupted spirit of a long-dead sorcerer has been freed to wreak lethal havoc on Earth! To stop this dark force once and for all, Shan and Hwen Mirage must marshal an alliance of old friends and new enemies, of the living and the dead. If they should fail? The living will die…and the dead will be extinguished in this life and the next!
Valiant's Harvey Award-nominated sensation unleashes an all-new chapter as acclaimed creators Jen Van Meter (Hopeless Savages) and Roberto de la Torre (Daredevil) throw the Doctors Mirage into their biggest adventure yet!
$3.99 | 32 pgs | T+ | On sale FEBRUARY 10
—
BLOODSHOT REBORN VOL. 2: THE HUNT TPB
Written by JEFF LEMIRE
Art by BUTCH GUICE
Cover by MICO SUAYAN
"THE HUNT" IS ON!
Bloodshot is on the hunt. Determined to stop the violent reign of terror that plagues Colorado,Bloodshot journeys across the Rocky Mountains to destroy the remaining nanites that have caused mass murderers to spring up across the state. But will the drugs, booze, and insane visions rattling around his head put an end to his journey before it begins?
Start reading here as New York Times best-selling writer Jeff Lemire (THE VALIANT, Descender) and Eisner Award-nominated artist Butch Guice (NINJAK, The Winter Soldier) begin the second staggering story arc of the chart-topping new series that Entertainment Weekly calls "a subversive new take on Valiant's resident unkillable killing machine."
Collecting BLOODSHOT REBORN #6-9
$14.99 | 112 pgs. | On sale FEBRUARY 10
TRADE PAPERBACK | 978-1-939346-82-7
—

IVAR, TIMEWALKER VOL. 3: ENDING HISTORY TPB
Written by FRED VAN LENTE
Art by PERE PEREZ
Cover by KANO
CREATION, ANNIHILATION…AND THE DEBUT OF AN ALL-NEW TIMEWALKER!
As history falls apart around her, only one man can help Neela Sethi save Ivar's life—and time itself—and that man is…Ivar! Wait…what?! Can Neela teach a new Timewalker the ropes of time travel as time collapses? Or will the universe finally meet its doom?
Find out right here as Harvey Award-nominated artist Pere Pérez (ARCHER & ARMSTRONG) joins New York Times best-selling writer Fred Van Lente (THE DELINQUENTS) for IVAR, TIMEWALKER.
Collecting IVAR, TIMEWALKER #9-#12
$14.99 | 112 pgs | T+ | On Sale FEBRUARY 17
TRADE PAPERBACK | 978-1-939346-99-5
—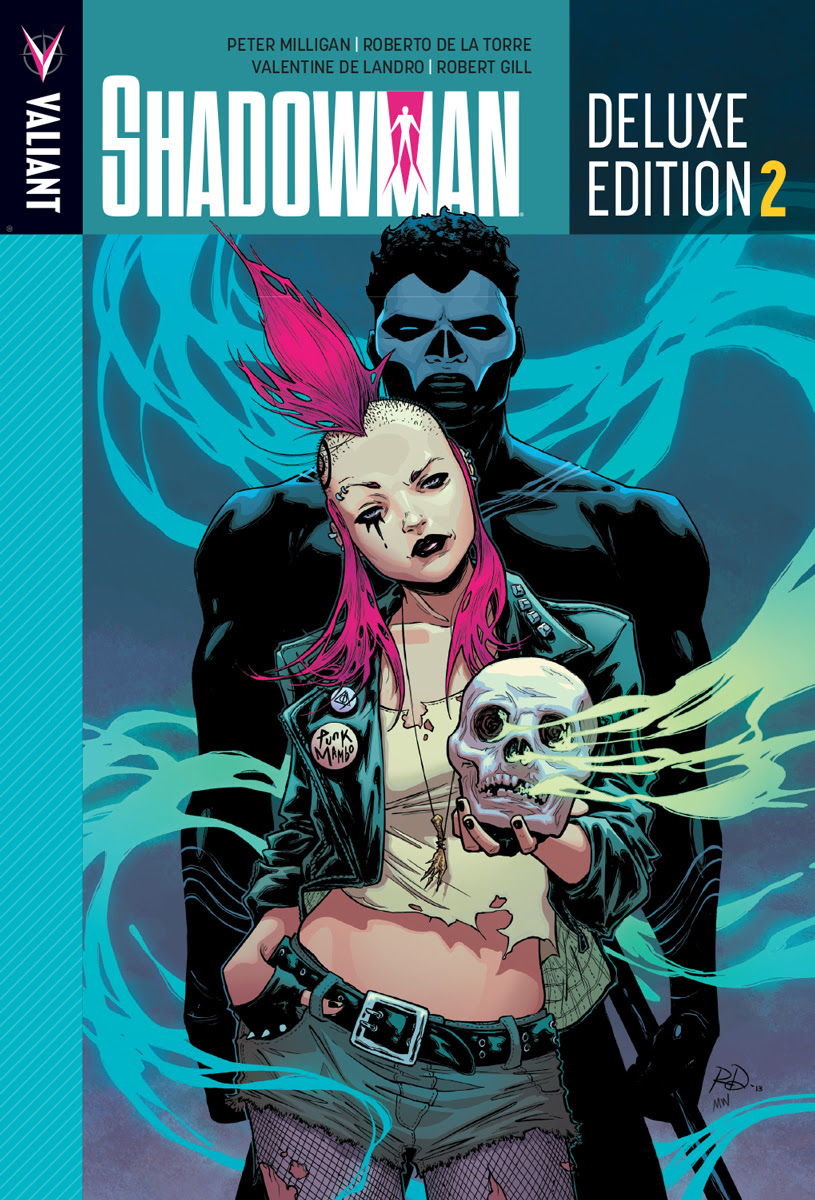 SHADOWMAN DELUXE EDITION BOOK 2 HC
Written by PETER MILLIGAN with DUFFY BOUDREAU, NEIL DVORAK, ALES KOT, CHRISTOPHER SEBELA, and JIM ZUB
Art by ROBERTO DE LA TORRE and VALETINE DE LANDRO WITH DIEGO BERNARD, CAFU, NEIL DVORAK, ROBERT GILL, MIGUEL SEPULVEDA, and MATTHEW SOUTHWORTH
Cover by RUSSELL DAUTERMAN
Comics icon Peter Milligan (Hellblazer) joins visionary artists Roberto de la Torre (THE DEATH-DEFYING DR. MIRAGE), Valentine de Landro (Bitch Planet), Robert Gill (BOOK OF DEATH) and many more for the oversized hardcover collection concluding the bone-chilling series Bloody Disgusting calls "the perfect cauldron of mystery."
When a troubled young man with a history of violence and a penchant for blackouts meets an overwhelming source of power with a mystical scythe, the results are doomed to be destructive. A voodoo loa has possessed Jack Boniface – or so he believes. But after Jack awakens in an alleyway covered in blood, he embarks on a journey across lands of shadows and death to discover if he can expel the dark force that's seized control of his life…and which may be responsible for a violent rampage throughout New Orleans
Featuring an anthology of tales from a roster of all-star creators – including Jim Zub (Skullkickers), Ales Kot (DEAD DROP), Christopher Sebela (Captain Marvel), and Duffy Boudreau (BLOODSHOT AND H.A.R.D. CORPS) – that push the outer bounds of the world of Shadowman further than ever before, this prestige-sized deluxe hardcover also comes jam-packed with 20+ pages of rarely seen bonus materials and special features!
Collecting SHADOWMAN #11-16, the never-before reprinted SHADOWMAN
#13X, SHADOWMAN: END TIMES #1–3 and PUNK MAMBO #0.
$39.99 | 304 pgs. | T+ | On sale FEBRUARY 24
HARDCOVER | 978-1-68215-107-5
—
ONE DOLLAR DEBUT: THE DEATH-DEFYING DOCTOR MIRAGE #1 (NEW PRINTING)
Written by JEN VAN METER
Art by ROBERTO DE LA TORRE
Cover by TRAVEL FOREMAN
Re-presenting THE DEATH-DEFYING DOCTOR MIRAGE #1 (2014)
$1 | 32 pgs. | T+| On sale  FEBRUARY 3
Please follow and like us: