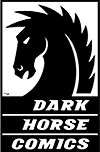 G4 AND DARK HORSE COMICS
LAUNCH SPECIAL "CON-TEST" TO FIND
THE ULTIMATE COMIC-CON FAN
Winner Will Join G4's Olivia Munn, Kevin Pereira and Blair Butler
as Special Correspondent at Comic-Con 2009 and Receive Exclusive Privileges from Dark Horse Comics
MILWAUKEE, OR, May 15 – Beginning today, G4 and Dark Horse Comics are kicking off a search for the ultimate Comic-Con fan who will receive the opportunity of a lifetime – the chance to appear in G4's special coverage of the year's most buzzed about convention. One lucky winner will be selected as a "Special Correspondent" to G4 and join "Attack of the Show" hosts Olivia Munn and Kevin Pereira, as well as Comic Book Expert Blair Butler on the show floor. Dark Horse, one of the largest comic book publishers, with titles like Hellboy, Star Wars, Umbrella Academy, Buffy the Vampire Slayer, and Alien will also welcome the winner as their "official guest," granting access to their special event and more. To enter, fans are encouraged to create a video that demonstrates their pop culture knowledge and on-camera abilities, and submit to g4tv.com/comiccon. The "Con-Test" kicks off Friday, May 15, 2009, and closes at 11:59PM on June 22, 2009.
Once again, G4 will present special coverage of Comic-Con 2009 direct from the show floor. Last year's attendance broke all records, topping 160,000 people and solidifying Comic-Con as the one of the biggest pop culture conventions in the world. G4 and Dark Horse Comics will bring one lucky fan to the heart of it all and put them in the spotlight at this massive event devoted to comic books, sci-fi, fantasy, horror, movies, video games, TV and more. G4's Kevin Pereira and Blair Butler will announce the winner live on "Attack of the Show" on June 29.
"Comic Con International has become the ultimate pop culture gathering for fans of almost any medium," said Dark Horse President, Mike Richardson. "What better way to reward our fans than with a chance to appear on the ultimate pop culture television show with our creators and top talent. The winner of this contest is sure to have the time of their life!"
"G4 viewers are huge fans of Dark Horse Comics and Comic-Con is the perfect opportunity for us to team up," said Neal Tiles, President, G4. "Comic-con is a major event for our audience and we are excited to reward the hard and true comic book fans with a chance to experience the phenomenon in person."
Contest details:
Fans must submit a video that demonstrates their knowledge and love of pop culture.
Submission dates: May 15, 2009 – June 22, 2009.
Winner will receive airfare and accommodations for themselves and 1 guest to Comic Con '09
Winner will have an opportunity to act as "Special Correspondent" for G4 and appear on air
Winner and guest will each receive a Dark Horse grab bag valued at $600.
Winner and guest will be given special access to all Dark Horse related events and signings.
Contestants will be judged on overall knowledge of all things pop culture, creativity and on-screen charisma demonstrated in their videos. G4 and Dark Horse Comics want to find the ultimate pop culture fanatic and stand-out personality who deserves this special Comic-Con opportunity. Videos must be at least 30 seconds in length and no longer than 10 minutes.
For official contest rules and to submit videos please visit http:g4tv.com/comiccon
About Comcast Entertainment Group
Based in Los Angeles, Comcast Entertainment Group operates E! Entertainment Television, the 24-hour network with programming dedicated to the world of entertainment, and E! Online; The Style Network, the destination for women 18-49 with a passion for the best in relatable, inspiring and transformational lifestyle programming; G4, offering the last word on gaming, technology, animation, interactivity and "geek culture" for the male 18-34 demo; and FEARnet, the world's premier horror and thriller destination on demand, online and on mobile devices. E! is currently available to 96 million cable and direct broadcast satellite subscribers in the United States. In 2006, E! launched the E! Everywhere initiative underscoring the company's dedication to making E! content available on all new media platforms any time and anywhere from online to broadband video to wireless to radio to VOD. The Style Network currently counts 60 million cable and satellite subscribers and G4, the #1 podcasted cable network in America, is available in more than 65 million cable and satellite homes nationwide. FEARnet is a joint venture between Comcast, Sony Pictures Television and Lionsgate. FEARnet.com ranks as the number one horror web site and FEARnet On Demand is one of the top five VOD networks.
About Dark Horse Comics
Since 1986, Dark Horse Comics has proven to be a solid example of how integrity and innovation can help broaden a unique storytelling medium and establish a small, homegrown company as an industry giant. The company is known for the progressive and creator friendly atmosphere it provides for writers and artists. In addition to publishing comics from top talent like Frank Miller, Mike Mignola, Neil Gaiman, Gerard Way and comics legend Will Eisner, Dark Horse has developed such successful characters as The Mask, Timecop, and SpyBoy. Additionally, their highly successful line of comics and products based on popular properties includes Star Wars, Indiana Jones, Buffy the Vampire Slayer, Aliens, Conan, Emily the Strange, Tim Burton, Trigun, and Serenity. Today Dark Horse Comics is the third largest comic-book publisher in the U.S. and is recognized as one of the world's leading publisher of licensed comics material
Please follow and like us: