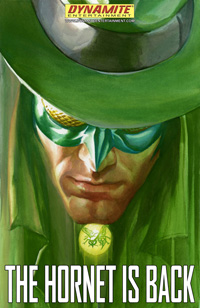 A pulp Icon is back and Dynamite Entertainment has him. Sounds like they are bringing out the big guns for him too!
Dynamite 5/13 – Following up on Dynamite Entertainment's announcement that they had completed a comprehensive comic book publishing deal to bring the Green Hornet back to comics! Dynamite currently has plans to introduce the new comic book adventures starring the Hornet (and Kato of course)!
"This one has been a long time coming and the good news there is that it's allowed us to put all the pieces in place to make this launch one of the biggest we've ever had," stated Dynamite President and Publisher Nick Barrucci. "The creative talent line-up includes Kevin Smith writing with Alex Ross, John Cassaday, David Finch and more to be announced!"
About the talent line-up, Dynamite has both Alex Ross and John Cassaday with David Finch on board to produce the #1 covers with a surprise cover artist. John Cassaday will be the regular series cover artist. "There are more "BIG" announcements coming soon," being the only other piece of information offered by Barrucci.
The Green Hornet has appeared in comics, starred on radio and TV and remains one of the most popular and iconic super heroes of our time. Through most of his various incarnations the Green Hornet is Britt Reid, a newspaper publisher by day, who by night goes out in his masked Green Hornet identity to fight crime as a vigilante, accompanied by his similarly masked Asian manservant Kato and driving a car, equipped with advanced technology, called Black Beauty.
Further details of the release will be forthcoming in the next few weeks.
Please follow and like us: