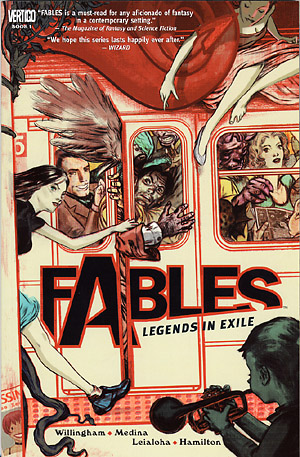 Found this story on AICN and thought it would be pretty cool. I've read the first for trades of FABLES and thought they were excellent. I have yet to pick up the others…of which there are many. I found the story of all our famous fairy tale creatures living in NYC to be a wonderful "what if?" that pricked both my inner child with it's characters and my grown-up self. FABLES is filled with all my old favorite characters, but has them committing gratuitous scenes of sex and violence. That's where the adult in my come in.
I love the idea of bringing this to TV. I think it might work better if it were on HBO or Showtime, where the restrictions on a TV series are looser than porn star's bra straps. But if anyone has seen shows like Dirty Sexy Money or Gossip Girl, the things they can do after 9pm are pretty extreme. Either way, I'll be giving this a look.
Here's the story as it ran on AICN:
ABC has agreed to a put pilot commitment for "Fables," based on the Bill Willingham funnybook series from DC Vertigo
.
Stu Zicherman and Raven Metzner ("Elektra," "What About Brian," "Six Degrees," "Life Is Wild") are scripting the pilot.
The Hollywood Reporter explains the premise:
… revolves around characters from fairy tales and folklore living in exile in modern-day New York.
"Fables" should not be confused with the Fox Network's lawyer dramedy project based on "Snow White and the Seven Dwarfs."
Find all of The Hollywood Reporter's story on the matter here.
Please follow and like us: