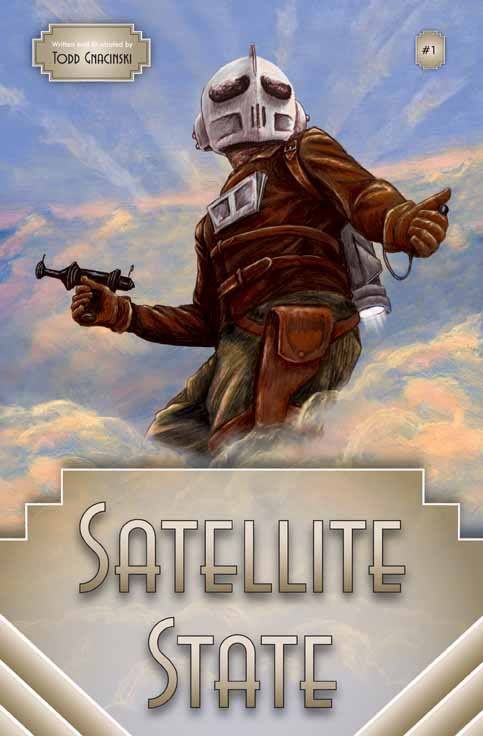 Satellite State #1 and 2 (Todd Gnacisnki)
From Todd's Satellite State myspace Satellite State is the brainchild of Illustrator, Todd Gnacinski. A graduate of The Millwaukee Institute of Art & Design, Todd has been a freelance illustator for many years. An avid comic book fan since childhood, he decided to put pen to paper and create a book all his own. Thus was born Satellite State.
I picked up Satellite State at the Oconocon this year and I was really impressed, it is one of those independent books that you can't believe is an independent. The story goes something like this… America is the middle of a dark retro-pulp time (think 1984 meets The Iron Giant) where the government is pulling the wool over the citizens' eyes after creating a fake alien invasion so that they can put the nation under Marshal law and "protect" (control) the citizens with their own giant robots, flying androids and "Rocketeer"-like troops and the trick of it is… the government is being controlled by aliens, so the invasion is actually real.
Okay, so this plot sounds a little cheesy and pulpy and perhaps like a sci-fi channel mini-series. But that's okay, because the pencil art is incredible! Todd Gnacisnki's pencils and art altogether could tell the story by itself without words. From giant robotic guards on patrol to facial close-ups, Todd gives everything fantastic detail. His use of depth and shading in every frame allows a reader to feel like we are watching the story unfold on some pre-Technicolor film footage… and it is glorious! Even if you are into the whole "dark government – fight the conspiracy" storyline, you will enjoy the book simply for it's visual value and effects. Click to get either Todd's Myspace or site.
Grade: A
Please follow and like us: