New series! New emotions! New creators! Even new formats! Be prepared for this month, because we're on fire! From Desiree Bressend and Ruben Gil, comes the horror with Call of the Suicide Forest, with covers by Toni Fejzula. Then, new creators and new stories of Bram and Weasel, with Tales of Rogues! This time, with Roberto Corroto and the stupendous Ertito Montana with our brigands trying to escape from Hall-Katraz…
And last but not least, we amigos are honored to present one incredible book. Jack Kirby! Wallace Wood! Yes, here at Amigo Comics, edited by Ferran Delgado… SKYMASTERS!

Amigo Comics! Look for us in Diamond Previews!
Amigo Comics! We've even got corner boxes on the cover!
And remember: PRE-ORDER!! Preferably via your friendly neighborhood comic book dealer!
PS Previews off all below titles can be found on our website.
Call of the Suicide Forest #1 (of 5)
Story: Desiree Bressend
Art: Ruben Gil
Cover: Toni Fejzula
Portia, an American student overwhelmed by her life, prepares to commit suicide in the "Suicide Forest". The living and dead who make this forest their home will begin a struggle not only for Portia's life… but also for her soul!
This miniseries is the sequel of the acclaimed graphic novel The Suicide Forest, written by El Torres with art by Gabriel Walta, masterfully written by Desiree Bressend with the artwork by Ruben Gil, but it can be read independently.
UPC Code: 732030830844—00111
NOV171205 – STL069207
32 pages FC
Writer: Roberto Corroto
Art: Ertito Montana
Color: Angel Lidon

Want to read more stories about Bram and Weasel? Tales of Rogues! are auto-conclusive comics by new, emerging hot artists! In this debut issue, our Rogues face one their oddest jobs: a nobleman has challenged them to test – and beat – the security of his fortress. And no thief has ever escaped from the Hall-Katraz castle!
Ertito Montana is the spectacular artist behind Street Tiger, and has also collaborated with Roberto Corroto in the amazing series Sicarios at Aces Weekly. Their approach to Rogues! in this self-conclusive story is one of the most hilarious the Bram and Weasel ever had!
UPC Code: 713482801859—00111
NOV171206 – STL069208
32 pages FC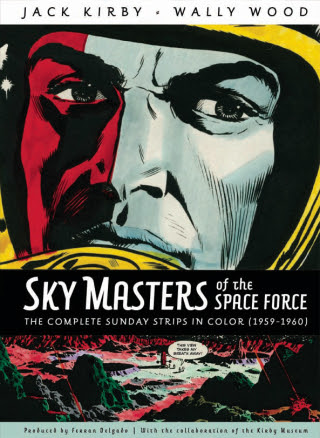 SkyMasters of the Space ForceThe Complete Sunday Scripts in Color. 1959-1960.
Writer/Art: Jack Kirby, Wallace Wood, Various
Cover: Wallace Wood
Produced by renowned letterer and comic expert Ferran Delgado, with the collaboration of the Kirby Museum!We are immensely proud to present you this oversized deluxe book compiling for first time ever a complete set of Sunday pages of Jack Kirby and Wally Wood's Sky Masters of the Space Force, presented in meticulously remastered color along with dozens of never-before-reprinted scrapbook panels!
It also contains plenty of extras, like twenty original color guides by Kirby himself, a huge section with original art, rare pieces and articles by main experts.
SkyMasters has received a "Spotlight On" from Previews! 
ISBN Code: 978-84-16486-79-3
NOV171207 – STL069209
HC, 128 pages FC
Please follow and like us: