Archie Comics September 2016 Solicitations
JOSIE AND THE PUSSYCATS #1
GRAB THE LATEST, SUREFIRE TOP-OF-THE-CHARTS NEW RIVERDALE SERIES!
Friends, countrymen, lend me your long tails and ears for hats—the Pussycats are back! In this series kick-off, Josie's getting the band together to help achieve her dreams of musical stardom. But for the group to last, it needs a strong foundation of friendship and trust. Can the girls get going, or will Alexandra's plotting put a stop to the whole thing?  Don't miss comics' supreme songstresses' return to the limelight in this exciting first issue!
Script: Marguerite Bennett and Cameron Deordio
Art: Audrey Mok
Cover: Audrey Mok
Variant Covers: Derek Charm, Colleen Coover, Veronica Fish, Francesco Francavilla, Robert Hack with Steve Downer, Gisele Lagace with Shouri, Alitha Martinez with Kelly Fitzpatrick, Marguerite Sauvage, Blank Sketch
On Sale Date: 9/28
32-page, full color comic
$3.99 U.S.
THE END OF AN ERA FOR RIVERDALE'S POWER COUPLE! The romantic rivalries and not-so-friendly competitions in Riverdale will finally come to an end as newly-crowned queen of Riverdale Veronica Lodge is sent packing once and for all! What does this mean for Archie? You won't want to miss this one!
Script: Mark Waid
Art: Veronica Fish, Andre Szymanowicz, Jen Vaughn, Jack Morelli
Cover: Veronica Fish
Variant Cover: Bilquis Evely, Marguerite Sauvage
On Sale Date: 9/21
32-page, full color comic
$3.99 U.S.
THE BLACK HOOD #1: SEASON 2
The acclaimed crime comic returns with an all-new #1 issue—a perfect jumping-on point for new readers. "The Nobody Murders, Part 1":  The Black Hood is no more. Sure, there are rumors that the former cop known as Greg Hettinger is still out there, blending in with the homeless population—and emerging only to stop a violent attack before vanishing again. But the ruthless assassin known as The Nobody considers the Black Hood a loose end, and he's willing to slaughter dozens to flush him out. How high must the body count rise before Greg steps forward to face an opponent he can't possibly beat?  Dive into the book UPROXX calls "Highly recommended" and THE MIAMI HERALD regards as "Noir fiction fans will surely dig," as a new season of THE BLACK HOOD kicks off from the killer creative team of Swierczynski and Scott!
Script: Duane Swierczynski
Art: Greg Scott
Cover: Greg Smallwood
Variant Cover: Michael Walsh
On Sale Date: 9/21
32-page, full color comic
$3.99 U.S.
THE SHIELD #3
"Daughter of the Revolution, Part 3" Captured by Walter Chase, the Shield is made a surprising offer—an invitation to join his government organization, protecting the country as she was born to do. But as her new missions take her well beyond national borders, the truth slowly dawns and the Shield must face the ultimate question: does she serve the United States of America… or its people?
Script: Adam Christopher and Chuck Wendig
Art: Drew Johnson, Rachel Deering, Kelly Fitzpatrick
Cover: David Williams
Variant Covers: Joe Eisma, Ron Salas, Wilfredo Torres
On Sale Date: 10/12
32-page, full color comic
$3.99 U.S.
SABRINA #7
"WITCH-WAR" Part One (of Six): "The Revenants": Sabrina's father, Edward Spellman, is back from the dead, inhabiting the body of the newly resurrected Harvey Kinkle! Sabrina, believing the love of her high school life is back, arranges for a romantic rendezvous—but neither Hilda nor Zelda want that reunion to take place and are willing to start a witch-war to keep them apart! Meanwhile, the diabolical Madam Satan reveals her true plans for the Spellman family… You dare not miss the last page of this masterpiece of the macabre!
Script: Roberto Aguirre-Sacasa
Art: Robert Hack, Jack Morelli
Cover: Robert Hack
Variant Cover: Moritat
On Sale Date: 9/21
32-page, full color comic
$3.99 U.S.
ARCHIE COMICS DOUBLE DIGEST #272
The spooky season is here again, and the gang is ready to throw an unforgettable Halloween kids charity event—and what better place to host a haunted house party than at the Lodge mansion? But once the kids' party is over, it's time for the real Halloween fun to begin! But what happens when the teens start experiencing some spooky occurrences that they don't remember coordinating for the event? See who can brave this haunted house adventure in "Giving up the Ghost," the frighteningly fun brand new lead story to this comics double digest!
Script: Paul Kupperberg
Art: Pat and Tim Kennedy, Jim Amash, Jack Morelli
Cover: Fernando Ruiz, Bob Smith, Rosario "Tito" Peña
On Sale Date: 9/21
160-page, full color comic
$4.99 U.S.
ARCHIE 1000 PAGE COMICS SPREE (TR)
Get ready for a MARATHON of the best and brightest stories Archie Comics has to offer! In this edition of the ARCHIE 1000 PAGE COMICS series, get ready for hours of fun, laughter and entertainment with Archie & his pals 'n' gals! You'll enjoy this SPREE of super entertaining stories! Everything's Archie in the largest Archie collection series EVER—offered at an incredible value price!
Script: Various
Art: Various
Cover: Fernando Ruiz, Bob Smith, Rosario "Tito" Peña
978-1-68255-996-3
$14.99/$15.99CAN
4 7/8 x 6 9/16 "
TR
1000 pp, Full Color
Direct Market On-Sale Date: 10/5
THE BEST OF ARCHIE COMICS 1 DELUXE EDITION (HC)
Attention, Archie fans! Finally, it's the book you've been waiting for—a full comic-book sized, hardcover, remastered, collector's edition of Archie's bestselling The Best of Archie Comics Vol. 1! Featuring over 50 iconic, hand-picked Archie stories from Archie's 75-year history, this book is a sure thing for both die-hard Archie fans and those new to Riverdale!
Script: Various
Art: Various
Cover:
978-1-61988-955-2
$19.99/$21.99 CAN
6 5/8 x 10 3/16 "
TR
416 pp, Full Color
Direct Market On-Sale Date: 10/5
BETTY & VERONICA JUMBO COMICS DIGEST #247
Coloring isn't just for kids anymore! When Mr. Lodge inadvertently starts a coloring book craze in Riverdale, everyone is spending their time doing the relaxing hobby. But when Betty, Veronica and Archie are involved—can it really be that calm and relaxing? Find out in "The Coloring Craze," the hilarious lead story to this JUMBO-SIZED comics digest!
Script: Dan Parent
Art: Dan Parent, Glenn Whitmore, Jack Morelli
Cover: Dan Parent
On Sale Date: 9/28
256-page, full color comic
$6.99 U.S.
B&V FRIENDS HALLOWEEN ANNUAL #251
When Betty makes her own stunning costume for the Riverdale High Halloween dance, Veronica's sure that her BFF is going to win the costume contest—and she's not about to let that happen! Can Veronica get the best costume that money can buy and win the contest away from Betty, or will she just end up getting the shaft? Find out in "The Costume Calamity," the fun lead story to this Halloween-themed comics annual!
Script: Dan Parent
Art:  Dan Parent, Jim Amash, Jack Morelli
Cover: Dan Parent
On Sale Date: 10/5
192-page, full color comic
$5.99 U.S.
SONIC THE HEDGEHOG #287
SONIC BATTLES at the CENTER of the PLANET in "Panic in the Sky" Part Four: This is it—the cataclysmic clash and ferocious finale to the Shattered World Saga!  Super Sonic leads Chip into battle against the dreaded Dark Gaia with the Freedom Fighters at ground zero!  With the fate of the world at stake, who will actually be able to make it home? Featuring the fourth of four EPIC connecting covers by mega-talent Dan Schoening and a "Super" variant by full-time editor, first-time cover artist Vincent Lovallo!
Script: Ian Flynn
Art: Diana Skelly, Terry Austin, John Workman and Gabriel Cassata
Cover: Dan Schoening and Luis Delgado
Variant Cover: Vincent Lovallo
On Sale Date: 10/12
32-page, full color comic
$3.99 U.S.
SONIC UNIVERSE #90
The fate of Angel Island is revealed in"Shattered" Part Four: Time is running out for Knuckles and Amy!  The vile wizard Walter Naugus has made his big move, which means certain doom for our heroes!  And as the Shattered World Crisis comes to an end, Angel Island begins to fall!  Can Red and Rose snatch victory at the last second? Featuring cover artwork by the legendary Tracy Yardley and an "and Knuckles" variant by the exceptional Evan Stanley!
Script: Ian Flynn
Art: Adam Bryce Thomas, Jim Amash, Jack Morelli and Matt Herms
Cover: Tracy Yardley & Matt Herms
Variant Cover: Evan Stanley, Gary Martin & Matt Herms
On Sale Date: 9/28
32-page, full color comic
$3.99 U.S.
WORLD OF ARCHIE JUMBO COMICS DIGEST #63
Archie and Chuck are decorating Chuck's house for Halloween with the cutest decorations in all of Riverdale… wait a minute, cutest?! Halloween is supposed to be about spooky decorations and thrills behind every corner! Archie and Chuck set to take back Halloween as the scariest holiday of them all—with a little help from a bewitching friend. Will Archie, Chuck and Sabrina be able to successfully mark the first feast of the witching year, or is Halloween doomed to be boring? Find out in "The Fright Side," the fun new lead story, filled with double the tricks and treats, in this JUMBO comics digest!
Script: J. Torres
Art: Fernando Ruiz, Bob Smith, Jack Morelli
Cover: Dan Parent, Rich Koslowski, Rosario "Tito" Peña
On Sale Date: 10/12
256-page, full color comic
$6.99 U.S.
Halloween ComicFest 2016 Titles
AFTERLIFE WITH ARCHIE: SEASON TWO (HCF 2016)
Kick off Halloween with the smash horror hit! It's been weeks since Archie and his friends left Riverdale. Now, they are wandering the deserted highways of America, one step ahead of the ever-pursuing vicious zombie horde. When they decide to set down roots to observe their first post-apocalypse Thanksgiving, Mr. Lodge leads a team into the forests of Pennsylvania to find dinner, but the hunters soon become the hunted, and not all of the gang will make it out of the woods alive. For TEEN+ readers.
Script: Roberto Aguirre-Sacasa
Art: Francesco Francavilla, Jack Morelli
Cover: Francesco Francavilla
32-page, black & white comic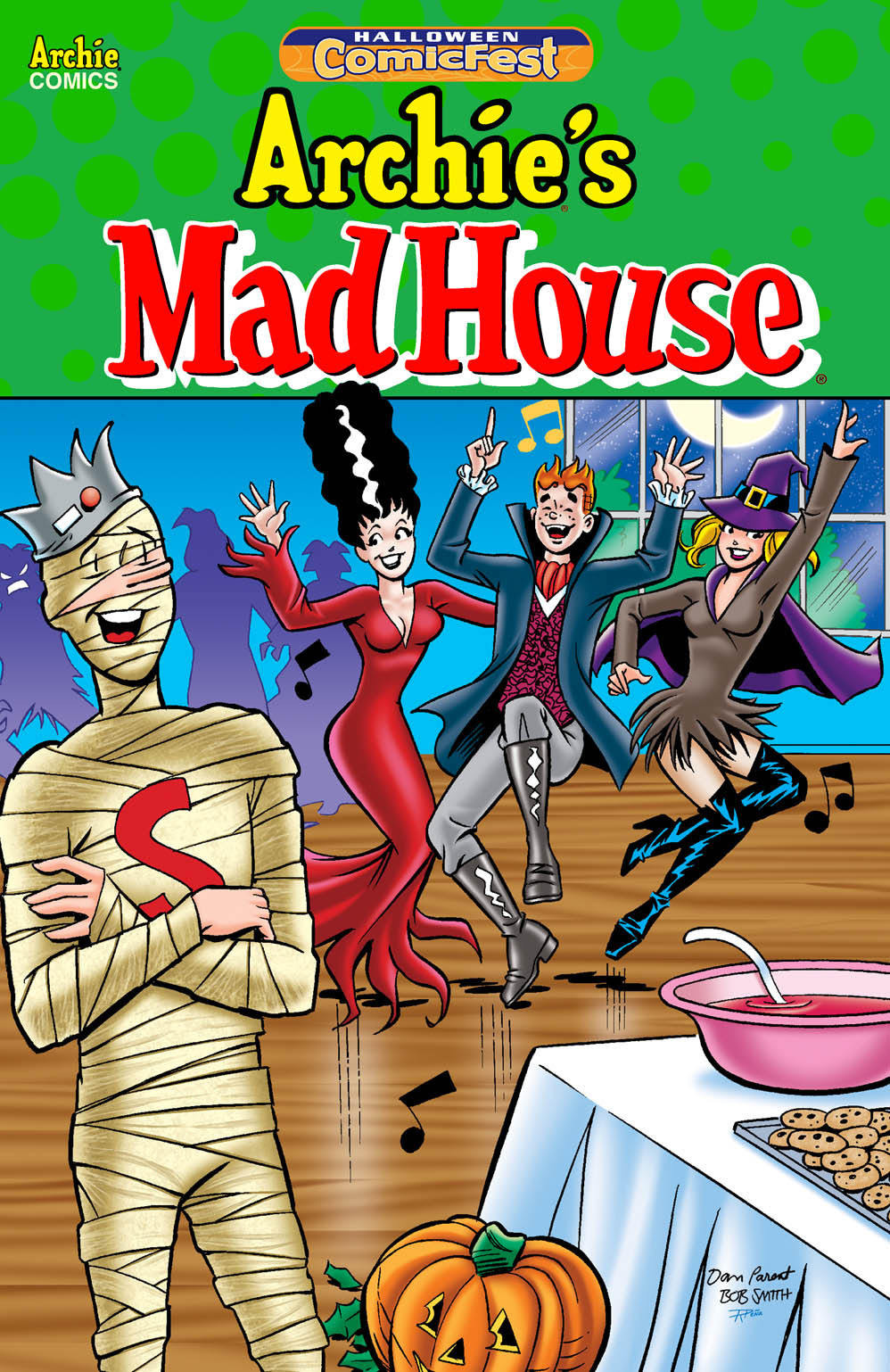 ARCHIE'S MADHOUSE (HCF 2016 MINI COMIC)
IT'S A MAAAAADHOUSE! Archie is proud to present an assortment of shenanigans from Archie's Madhouse — a series of wild and wacky tales that are sure to leave you laughing and going crazy for more!
Script: Various
Art: Various
Cover: Dan Parent, Bob Smith, Rosario "Tito" Peña
12-page, black & white comic
Please follow and like us: