Here is what's new this week from Action Lab! More awesome that you can shake a stick at!

AWAKE #1
Writer(s):  Susan Beneville
Artist Name(s): Brian Hess
Cover Artist(s): Brian Hess
Twelve year-old Regn has the power to wake and heal planets.  But, on her first mission, she lands on Gremon where she discovers an angry planet tearing itself apart, an irresponsible big brother, and a greedy baron who stokes the chaos for his own benefit.  Her power may not be enough when she comes face-to-face with the planet's consciousness.  Variant cover by Dan Schoening, limited to 2000 copies.
 32 pgs./ All Ages / FC                                                    $3.99 (reg.) / $4.99 (var.)
NUTMEG #4
Writer(s): James F. Wright
Artist Name(s): Jackie Crofts
Cover Artist(s): Jackie Crofts
Fall, Part 4: "The Bake Sale."  It's the Lady Rangers' Brownie Brawl Kickoff and Vista Vale is hopping. Teen detective Ginger and school paper editor Anise are there, hunting for a new case. Meanwhile, Poppy learns more about Cassia as they seek a new ally for their secret brownie enterprise. Features a Halloween variant cover.
32 pgs./ Teen / FC $3.99 (reg.) / $4.99 (var.)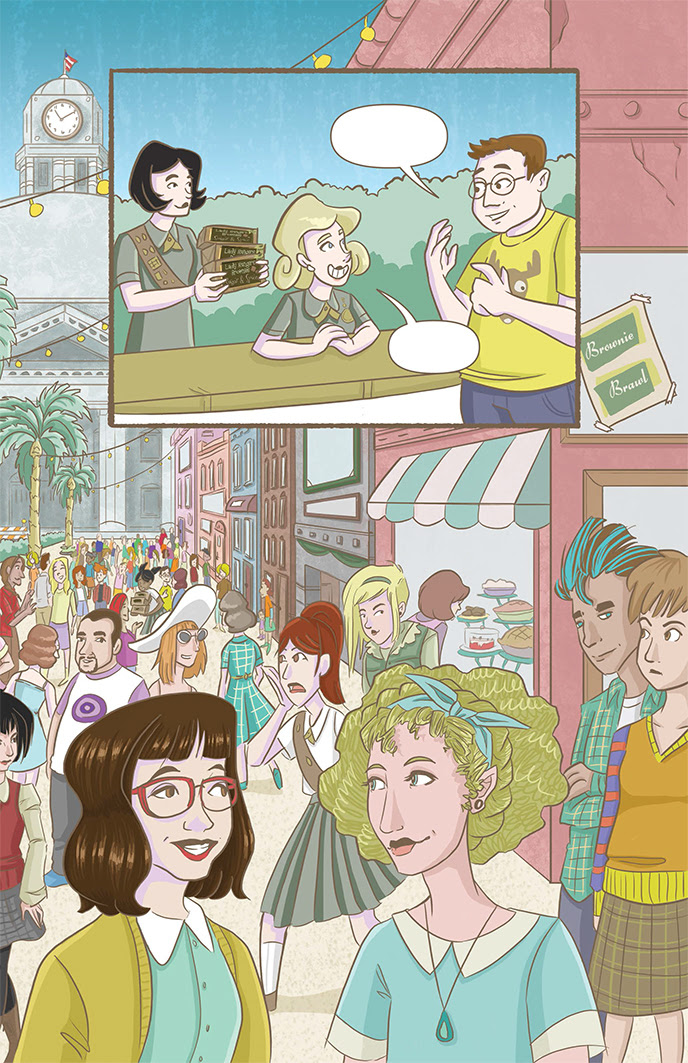 PRINCELESS: RAVEN, THE PIRATE PRINCESS #3
Writer(s):  Jeremy Whitley
Artist Name(s): Rosy Higgins, Ted Brandt
Cover Artist(s): Rosy Higgins, Ted Brandt
So far, Adrienne's crew is up to three and she's going to need a lot more if she's going jumpstart her quest for vengeance.  Katie and Sunshine head out to recruit a crew, while Raven goes looking for a navigator.  Luckily, she knows one.  Unluckily, her relationship with this navigator is…complicated.  Will she recruit her or will she end up on the wrong end of a drawing compass?  Variant cover limited to 2000 copies!
32 pgs./ Teen / FC $3.99 (reg.) / $4.99 (var.)
ABOUT ACTION LAB ENTERTAINMENT- Formed in 2010 with the purpose of pooling their collective talents into a single, powerful entity, the members of Action Lab Entertainment have countless years in multimedia publishing, design, and business.  Their first release, Fracture, was successfully funded through Kickstarter and since then they have continued their mission to produce high quality, genre-spanning entertainment.  Since its formation, the accolades for A.L.E continue to build on a daily basis.  Among its more popular titles are all ages material like the Eisner, Glyph, Shel Dorf Award nominated series PRINCELESS, NFL RUSHZONE (based on the Nickelodeon Television series), Jamal Igle's MOLLY DANGER, Artist/ Writer Jeremy Dale's hit series SKYWARD, and Gayle Middleton's (My Little Pony, The Littlest Pet Shop) monstrously adorable VAMPLETS. Action Lab's Mature Readers imprint ACTION LAB DANGER ZONE continues to push the envelope of comics entertainment with titles as varied as EHMM THEORY and Dan Mendoza's over the top horror-comedy ZOMBIE TRAMP, THE FINAL PLAGUE and BO, PLUSHY GANGSTA.

Please follow and like us: