BLACK MASK'S MARCH 2015 SOLICITATIONS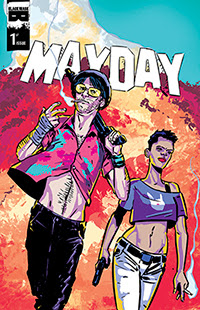 Mayday #1
w. Curt Pires
a. Chris Peterson
cover- Chris Peterson
Space Riders #1
w. Fabian Rangel Jr.
a. Alexis Ziritt
cover- Alexis Ziritt 
We Can Never Go Home #1
w. Matthew Rosenberg
& Patrick Kindlon
a. Josh Hood
cover- Michael Walsh
Godkiller: Walk Among Us #4
w. Matt Pizzolo
a. Anna Muckcracker Wieszczyk
cover- Ben Templesmith
Ballistic, vol 1
w. Adam Egypt Mortimer
a. Darick Robertson
cover- Darick Robertson
Godkiller: Walk Among Us, pt 1
Collected Trade Paperback
w. Matt Pizzolo
a. Anna Muckcracker Wieszczyk
cover- Ben Templesmith
MAYDAY #1
Diamond code: JAN151091
Writer: Curt Pires
Artist: Chris Peterson
Cover: Chris Peterson
SRP: $3.99
MR, Color, 32 pages, monthly
A washed-up, drug-addicted screenwriter and a transgender bartender stumble onto a Satanic cult's plan to sacrifice people all across LA (geomapped in the form of a pentagram, of course) and bring on armageddon. As our intrepid, damaged heroes embark on a suicide mission to stop the crazy cultists, even they wonder if this is all really happening or if they're just plain batshit crazy. Probably both.
The latest project from the mind of white hot scribe Curt Pires (POP) sees him teaming with art sensation Chris Peterson (Grindhouse) for a story that cuts to the very center of Hollywood mythology and depravity itself.
---
SPACE RIDERS #1
Diamond code: JAN151092
Writer: Fabian Rangel Jr.
Artist: Alexis Ziritt
Cover: Alexis Ziritt
SRP: $3.99
MR, Color, 32 pages, monthly
From the galactic core to the outer quadrants, one name strikes terror in the hearts of evil beings everywhere:
THE SPACE RIDERS
Sailing the cosmos in the Skullship Santa Muerte, Capitan Peligro and his fearless crew deal harsh justice to the scum of the galaxy while searching for the forbidden truths of the universe!!
Fabian Rangel Jr (Doc Unknown) and Alexis Ziritt (The Package) bring you a new and exciting space adventure that will DESTROY YOUR BRAIN! (in a good way)
---
WE CAN NEVER GO HOME #1
Diamond code: JAN151093
Writers: Matthew Rosenberg & Patrick Kindlon
Artist: Josh Hood
Covers: Michael Walsh
SRP: $3.99
MR, Color, 32 pages, monthly
"A well worn mixtape, a stolen convertible, a duffel bag full of cash, a fully loaded .45, and super-powers. 17 and on the run is the only way to see America right."
Navigating the halls of high school is never easy. And for teenage outcast Duncan and popular girl Madison things are even harder. They share a secret- they can do things other people can't. But their abilities and need for secrecy take them down a dangerous path. A love letter to crime/road tales like Badlands, 80's coming of age films like Pump Up The Volume, and askew superhero comics like Runaways, WE CAN NEVER GO HOME still carves out it's own path. It is a new chance to fall in love with the lost misfits and doomed dreamers who set off to find something bigger.
The debut creator-owned book from artist Josh Hood (JLA: Scary Monsters, Venom), and writers Patrick Kindlon (Menu) and Matthew Rosenberg (12 Reasons To Die, co-writer of Ghostface Killah's new LP 36 Seasons).
---
GODKILLER #4
Diamond code: JAN151090
Writer: Matt Pizzolo
Artist: Anna Muckcracker Wieszczyk
Cover: Ben Templesmith 
SRP: $3.99
MR, Color, 32 pages, monthly
Godkiller returns for the second half of the beloved 'Walk Among Us' arc beginning with issue 4, where Tommy meets notorious bounty hunter Soledad and commences his training in the mysterious arts of quantum-physics-based magic.
Godkiller has grown in notoriety and fandom since issue 1 debuted in October, this is a perfect jumping on point since issue 4 will street alongside the first trade collecting issues 1-3 (100+ pages since two issues were double-sized) also dropping in March.
Don't sleep on this unique series that earned sleeper hit status when stores demanded reprints of #s 1 & 2 and #3 topped Diamond's Advanced Reorder Charts.
---
BALLISTIC, Volume 1
Diamond code: JAN151088
Writer: Adam Egypt Mortimer
Artist: Darick Robertson
Cover: Darick Robertson
SRP: $14.99
MR, Color, 132 pages
Darick Robertson (Happy, The Boys, Transmetropolitan) and Adam Egypt Mortimer's madcap, psychedelic, transreal buddy adventure about Butch and his best friend Gun, a drug-addicted, genetically-modified, foul-mouthed firearm, as they attempt to elevate Butch from air conditioner repairman to master criminal in the twisted, post-eco-apocalyptic Repo City State, a reclaimed trash island built entirely from DNA-based, living technology with bad attitudes.
This critically acclaimed, spiritual successor to Transmetropolitan was all over the Annual Top Ten Lists, including USA Today's "Most insane read of 2013," Bloody Disgusting's "#1 Debut of 2013… damn near perfect," and even Grant Morrison said "Ballistic is my favorite comic of 2013"! Don't miss this unhinged masterwork now that it's finally collected into one mindbending book.
---
GODKILLER, Vol 1: Walk Among Us, Part 1
Diamond code: JAN151089
Writer: Matt Pizzolo
Artist: Anna Muckcracker Wieszczyk
Cover: Ben Templesmith
SRP: $9.99
MR, Color, 128 pages
Fallen gods, weaponized orgasms, and quantum physics-wielding technowizards collide in Pizzolo and Wieszczyk's beloved modern classic about a teenage orphan named Tommy and an escaped slavegirl named Halfpipe who travel through a post-nuke wasteland in search of a new heart for Tommy's dying sister. "Saga meets Johnny The Homicidal Maniac." -Aint It Cool News "A horrific yarn of quantum physics, culture jamming, and conspiracy theory." –Wired
The sleeper hit of 2014, Godkiller's devoted following has grown larger and more fanatical since its debut in comic shops in October. Collecting issues 1-3 here, this trade streets alongside issue 4 so the two books combined make for a great jumping on point as word spreads of this unique, grimy, beloved tale that is unlike anything else out there and on route to becoming a trilogy of animated feature films
"It pushed me further than I've ever been pushed and it establishes a new level of dialogue in the medium. In short, it's mandatory reading for anyone who loves comics." -from Bloody Disgusting's 5-Skull Review of Godkiller #3
About Black Mask Studios
Black Mask Studios is a publishing/production company that specializes in working with creators to create the most daring, smartest, riskiest comics around. Launched in 2013 by Brett Gurewitz (Bad Religion, Epitaph Records, ANTI- Records), Steve Niles (30 DAYS OF NIGHT), and Matt Pizzolo (Occupy Comics), the company's mandate is to support unique creators and expand their audiences. Black Mask's initial slate included the political, not-for-profit Occupy Comics (with Alan Moore, Charlie Adlard, Art Spiegelman, Molly Crabapple, and dozens more), the animal-rescuing vigilantes story Liberator, Adam Egypt Mortimer and Darick Robertson's transreal, cyberpunk adventure Ballistic, and the multi-platform gangster odyssey12 Reasons To Die by Ghostface Killah and RZA. Black Mask recently announced its 2015 slate which features new works by Grant Morrison, Vanesa Del Rey, Michael Moreci, and Steve Niles.
Please follow and like us: