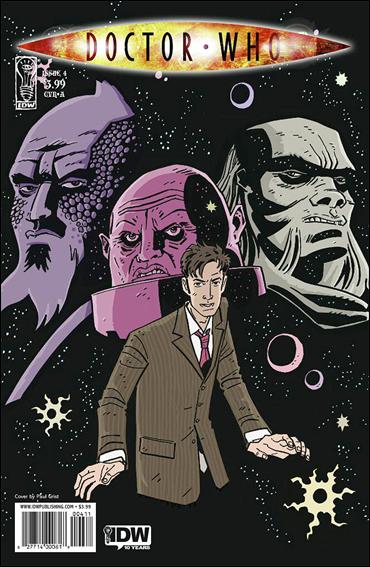 Doctor Who #4 (IDW – Lee / Grist / Elliot / Kirchoff /  Robbins / Smith)
In Part 2 of the four-part "Fugitive" story arc, the Doctor finds himself confined with three aliens that would like nothing more than seeing him dead! But that's just the beginning of troubles as the Doctor learns that the galaxy is on the verge of all-out war!
IDW sure has had quite a few Doctor Who books come out in the last year, some being a bulls eye for the fans and other missing the mark by quite a bit.  As a general rule, Tony Lee does a marvelous job of keeping the Doctor's following happy.  But, the ongoing series started off with a really bad two-parter which hopefully didn't turn too many people off.  But now Tony Lee has stepped it up some and not only is the "Fugitive" arc solidly written, but it tracks characters and plot line from present back with early regenerations making it appealing to fans of all generations.
Unfortunately, the art doesn't meet the standard of the writing.  I am not a fan of Grist's chunky, blocky style.  I think it disrupts the flow of the story and overall comes across more as "modern art" rather than sequential story-telling.
Issue Grade: B (story A / art C-)
Please follow and like us: