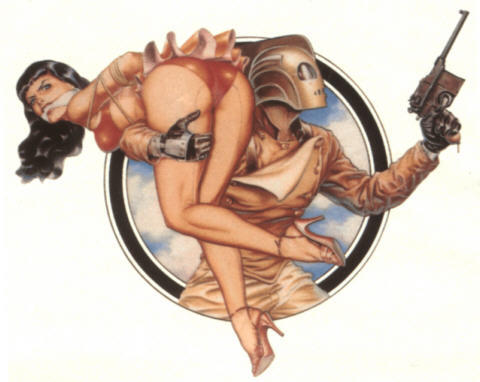 I got this from an artist friend who go it from this from CBR…just wanted to share my condolences to his entire family…god bless
"THE ROCKETEER" CREATOR DAVE STEVENS DIES AT 52
by Andy Khouri, Staff Writer
Posted: March 11, 2008 — More From This Author
Dave Stevens in 2002
A Dark Horse Comics representative has confirmed sad news CBR received earlier today — Dave Stevens, best known as the creator of The Rocketeer and his "good girl" art, died yesterday following a long and private battle with Leukemia. He was 52.
First published in 1982 by Eclipse Comics and then by Comico and finally Dark Horse, "The Rocketeer" instantly earned Stevens many loyal fans. The book showcased his exquisite artwork, which combined an obvious affection for pulp heroes and sexy '50s pin-up girls and helped re-popularize interest in the classic pulp adventure aesthetic and is credited by many as almost single-handedly igniting the late 20th century resurgence of '50s pin-up and fetish model Bettie Page, who served as inspiration for the Rocketeer's love interest Jenny Blake.
After drawing her classic image for many years, Stevens eventually befriended the real-life and hugely reclusive Bettie Page, becoming one of her closest friends and financial supporters, having recognized his own success was due in no small part to his use of her likeness. Stevens told comics historian Mark Evanier, "It's amazing. After years of fantasizing about this woman, I'm now driving her to cash her Social Security checks."

Famously meticulous with his artwork, Stevens produced few comic books beyond "The Rocketeer," which was adapted as a feature film in 1991 starring Bill Campbell, Jennifer Connelly, Alan Arkin and Timothy Dalton. Stevens remained very visible on the art scene with his many glamour illustrations, contributions to art books and private commissions.
For more on Dave Stevens and his remarkable life and work, CBR News encourages readers to visit the blog of Mark Evanier, one of Stevens' closest friends.
The Comic Book Legal Defense Fund has indicated there are no plans for a public memorial service. CBR extends its condolences to the friends and family of Mr. Stevens.
Please follow and like us: