The great comic shop of Kowabunga Comics had the writer of Star Wars: Knights of the Old Republic, John Jackson Miller, in their shop to sign books and do some general talky-talky. John is an extremely kind man who was willing to talk with fans for hours about his work, comics, and general geeky things. The main topics he talked about were his start in comics, Knight of the Old Republic (of course) and the new Star Wars comics crossover, and a very little bit on his upcoming projects. I've broken each section up into sections wit bullet points to make for easy reading. Enjoy!
JJM's Start in Comics
* First comic John ever owned was Star Wars #1 from Marvel, which he still owns. He did point out that it's not the one worth tons of money, so don't go e-mailing him to see if he'll sell it.
* His mother was a librarian who not only never threw his comics away (how many people have that story?), but made him keep all his comics in impeccable order. How's that for an awesome mom?
* John has a bachelors degree in journalism and a masters degree in Soviet studies.
* He starting writing comics as a kid and he traded his works with his friends. John said the equivalent of this today is web comics.
* His first job for Marvel comics was the Crimson Dynamo miniseries the  back in 2003. This book made great use of his Soviet studies degree since the Soviet Union fell just before he graduated. When you read Crimson Dynamo, you'll see tons of references to Soviet history, culture, and political goings-on.
* His success on Crimson Dynamo lead him into his run on Iron Man were Tony Stark became the Director of Defense. This is when we see Tony solidifying his connections with the US government, which would later lead to his talking over of S.H.I.E.L.D. John's run on Iron Man is known as the "Tom Clancy" time on the book because of how realistic everything is. The only piece of the John's Iron Man that is unrealistic is the Iron Man armor itself.
* After John was done with Marvel he blazed a path into Dark Horse Comics.
JJM rides the Dark Horse:The meat and potatoes of it!
* John's first book for Dark Horse (DH) was an issue of Star Wars: Empire where Darth Vader is solving a murder mystery. From there he moved on to Knights of the Old Republic (KOTOR)
* KOTOR is set 4000 years before the Battle of Yavin seen in the motion picture Star Wars: A New Hope.
* John said that he has created "The Fugitive in the Star Wars Universe". This is referring to the old TV series that was made popular again in the 90's by the Harrison Ford and Tommy Lee Jones movie.
* The story follows the worst Jedi apprentice ever named Zayne Carrick. Zayne is accused of a mass murder her didn't commit, hunted by just about everyone, and all of this happens during the Mandalorian War. Which means it's like The Fugitive taking place in WWII and out hero is being hunted by the Axis and the Allies.
* On a side note, John mentioned that it's tough to ride in an elevator with guys in Mandalorian armor.
* There is a new crossover event coming to the Star Wars books called Vector. John didn't say much about it, but the story takes place in all the Star Wars comics. That's a story spanning 4125 years of Star Wars history. Now there is no time travel in the Star Wars Universe, but John did assure us that they have come up with something very cool to get us through all those eras. He also assured us that even though Vector has a part in every Star Wars comic, it doesn't throw off the existing stories for those who do not wish read all 12 issues.
*I tried to pull a few Vector spoilers out of John, but to his credit the man was a steel trap. I couldn't get a thing.
Upcoming Project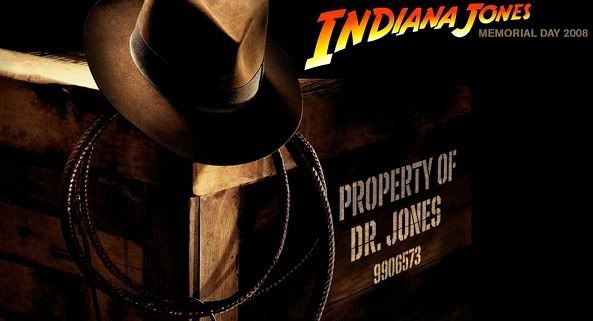 * Twenty-five years after "Raiders of the Lost Ark," Indiana Jones is back! The movie is out May of 2008 and it stars Harrison Ford Shia LaBeouf, Cate Blanchett, John Hurt, Ray Winstone and Jim Broadbent. Directed by Steven Spielberg, written by David Koepp, produced by George Luca, yep the gangs all here.
* I'm happy to say that John Jackson Miller is writing the comic adaptation. The only thing I could get out of John was that it's a comic about Indiana Jones and that means there will be a whip and a hat. As stated before, John keeps his secrets well. He made it very clear that he could not discuss any piece of Indy 4 other than to say he was working on the comic adaptation.
* John did say that Dark Horse comics will be putting out an Indiana Jones Omnibus that collects the comic adaptations of the first three films as well as some new Indiana Jones adventures in their young readers line.
Well that about covers it! It was great to talk with John about his body of work and his obvious love of the comic book medium. ThePullBox looks forward to his future work and wishes him the best of luck.
Please follow and like us: